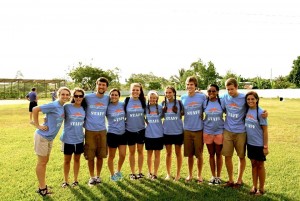 The application process for 2013 Summer Staff is now in full swing. All applicants are to submit your reference letters to mesummerstaff@gmail.com.
2013 Summer Staff Application: http://bit.ly/MEstaffapp13
Applicants, we will be contacting you regarding your application status. Submitting this application is not a guarantee you will be accepted.
For questions about 2013 Summer Staff, contact mesummerstaff@gmail.com.
Internships for 2013
Any college student (or college grad) who has been on a one-week mission trip with Mission Emanuel is eligible for a month-long internship in June. You must contact us before April 1, 2013 at the above address to discuss your proposal, which should include the area or focus of ministry you wish to devote your month. This focus must include opportunities for other Americans to participate throughout the month as this will enhance the Dominican-American relationships that Mission Emanuel regards as priority. All interns are supervised by one of the Mission Emanuel staff and they participate in all Summer Staff meetings.

#1-What is Summer Staff?
Every June, hundreds of short-term missionaries from various churches come to the communities of Cielo and Nazaret in Santo Domingo, Dominican Republic to work with Mission Emanuel. The summer staff's responsibility is to provide assistance and support to those teams. In addition to this support role, the staff also commits to a month of spiritual discipleship and various training opportunities for cross-cultural ministry.
#2-Who is allowed to join Summer Staff?
This program is traditionally designed for high school (rising juniors and up) and college students who have already served at least once
on a week-long trip to the DR (through Mission Emanuel). Also, students must be able to meet the criteria listed below.
Criteria:
A Servant's heart (read John 13:1-17 & Matthew 20:1-16) and a reference, preferably a mentor / minister willing to confirm this attitude
Previously served with Mission Emanuel for 1 week (minimum)
Available for the month of June 2013 (subject to change).
Trips come each week in June and we prefer that our team is completely available for all 4 weeks.
Willing to raise financial support (Financial FAQs)
(write letters for support, earn money through work/fundraising)
#3-"How can I apply?" & "Am I automatically accepted?"
Students who meet the above criteria may apply online.
Please know that some applicants will not be offered a summer staff position based on the team limit. In other words, anyone can apply, but only a handful will be chosen. Furthermore, some applicants may not be invited if there are character or maturity issues that could affect the unity of the team or the ability to serve the weekly teams and/or Dominican people. In the same way, some candidates are strong in areas of maturity and service, but due to the need to keep the team size manageable, we may not be able to offer a team spot. In either case, we encourage you to apply.
#4-"I've applied. Now what?"
After applying, you should receive a confirmation via email from us within a few days. If you have applied but are waiting for a response, please contact us. Our process will be an initial phone call/interview, then communicating with a mentor to discuss the applicant's attitude and maturity. If all goes well, an invitation will be extended to the applicant to join summer staff.
#5-"How final is my commitment?
Know that while we are praying and considering you as an applicant, you should be praying and considering us as a summer opportunity. We want you to be excited about this opportunity and be able to commit to a month that could change your life! If during the application process you feel led to withdraw your name from consideration, just let us know and we will understand. If, however, you are in the process of raising support and withdraw from the program, we will not be able to refund money, as it is technical
Financial#1-"How much does it cost?"
(The following figures were updated on March 1, 2013 and subject to change.)
1) Traveling expenses:
roundtrip airfare (~$400-700),
travel insurance ($15/week),
tourist card ($10 – cash),
preparation ($?),
passport fees: $100-130
expedite fee (add. $60)
spending money (rec. $50-100)
departure tax ($20 – cash) required for those in the DR for 30+ days,
miscellaneous ($?)
2) On-ground expenses:
$675 per week– includes lodging, food, transportation until departure

#2-"How can I cover this cost?"
Because summer staff is for high school and college students, we realize that most will not be able to cover the cost of the trip on their own. Therefore your options are: paying for the trip* or raising support. While we will support your decision to cover the cost however you would like, we will still require you to develop a prayer support team of at least 20 people.
*Some churches may provide opportunities for individual fundraising that could apply toward an individual account.
#3-What does it mean to "raise support?'"
Support raising refers to the invitation to friends, family, and your church to "partner" with you by financially and prayerfully supporting your ministry. Your "support team" will receive updates from you during your month and following as a part of sharing your experience. Their prayer support will enable your work by inviting God's protection and personal development in your life throughout the month.
#4-"Why 'raise support?'"
Raising support is a biblical concept that demonstrates God's faithfulness when he calls someone to serve Him. The process is challenging to both faith and patience, but we believe that God invites our dependence upon him and expects us to trust him. Serving overseas is simply one facet in the Christian faith where trust is necessary in following Jesus Christ.
#5-"When should the support be raised?"
Once a student joins staff, we begin discussing a timeline for your support goals. However the on-ground expenses must be covered by the end of the first week in June
Safety
"How safe is the trip?" A quick word on safety: While we believe that God provides and cares for his children – and those who serve Him – we cannot "guarantee safety." We can, however, promise you that safety matters a great deal to us and we work hard to oversee and protect every visitor, especially summer workers. The following information is provided to help prepare you for the conditions of the trip:
Food/Water: We do not provide food or beverages to any of our Summer Staff and team members unless we are confident that it is pure and safe. We strongly discourage anyone from eating food or drinking beverages prepared or provided by members of the community unless our staff has personally overseen the preparation process and verified its safety. While we strive to evade all food-borne illnesses, most missionaries can expect to experience "traveler's diarrhea."
Access to healthcare: Our medical clinic physician is available every day to care for our Summer Staff and team members. In addition, a privately operated emergency medical clinic, with physicians available twenty-four hours a day, is fifteen minutes from the community and five minutes from our hotel.
Community safety: Santo Domingo is both the capital and largest city of the Dominican Republic. Santo Domingo shares characteristics with cities of similar influence and size throughout the world. These include wealth and poverty, safety and violence, security and theft. We advise all of our Summer Staff and team members to be cautious of potentially dangerous aspects of society. Mission Emanuel strives to provide a safe environment for all aspects of ministry, including community outreach, construction, recreation and rest.
For more questions or clarifications, please contact us.