November 2011
Dear Friends,
This may seem like a very different newsletter from me because I usually talk about the profound ways God is using Mission Emanuel through education, health care, discipling, pure water, etc.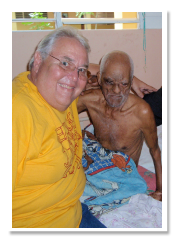 God is certainly doing those things through us. . . BUT . . . this is different and yet the same.
This is an obituary . . .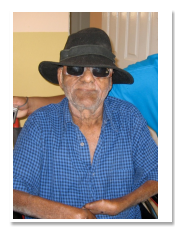 The first time God called me to the Dominican Republic to learn how to run mission projects was thirty-two years ago.  While there, Kent Keller and I heard of a leprosarium nearby and we were curious, so we went.  We were given a tour through the little compound (that had just be destroyed by Hurricane David) by Sister Mary Magnalena from Mother Teresa's order.  In the first little shack (with no roof), we visited a small very disfigured man with dark glasses, a fedora, and no teeth and a big smile. This was Enrique, my first friend with leprosy.  We instantly bonded even though we had no common language except the language of the soul.
For the next 32 years, I have developed a dear friendship with Enrique. Georgia Ana and I would visit him when we lived in the DR, and visited with all his friends – Pedro Gordo, Pedro Flaco, Esta Thomis . . . and many more.  Juliana loved to go there to be held, loved on, and passed around.  She ministered to them through her fearlessness and love, as her parents did as well.
Over the years, I've taken well over 10,000 short-term missionaries to visit and minister to Enrique and his compaňeros.   Each and every time we went and visited, sang, and prayed, each participant came away more blessed than the blessings they felt they gave the lepers.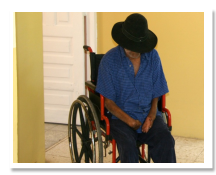 Facing leprosy for the first time broke down fears and brought plenty of tears.  The question would come. . . how can they have joy when they have nothing but a horrible disease, and I have everything?  Well, my response was – They have Jesus!   Jesus brings joy – lasting joy – which doesn't always bring a smile but something much greater; a sense of confidence that God has things under control.  Peace, courage, and confidence lead to faith which brings us hope which provides the spiritual muscle to love others and ourselves as Christ does.  This is one of many lessons that I've learned from Enrique – he has discipled me!
Many times when our groups visit, Dr. Castro is there and welcomes us and shares about leprosy.  Dr. Castro says.
There are 3 main types of leprosy:
Tuberculoid  which manifests itself in major skin lesions and some loss of feeling.
Lepromatus ,a more serious form, manifests itself in the loss of feeling of the extremities and in extreme disfigurement and blindness.  Antibiotics put a stop to the progression of the disease.
The third form of leprosy is most heinous and is leprosy of the soul.  It manifests itself in self-centeredness, narcissism, and the total lack of sensitivity to other's needs or pain.  The only cure is Christ filling that soul with Himself to the degree we let Him.  Ultimately, there is no more room for the disease."
Ten years ago I started experiencing loss of feeling in my feet and hands.  It finally got to the point that I had to go to Mayo Clinic.  This peripheral neuropathy is also experienced by all lepers.  When a neurologist found out that I had spend considerable time at a leprosarium in the DR, he said…"Aha!  Now I know what's causing this condition…you have leprosy!"  I thought, "Oh, crap!!  This could eliminate our mission groups visiting one of our favorite places."  I really wasn't all that concerned for myself because the disease is now curable… so the doctor tested me.
Answer:  NO LEPROSY!  Whew!  But then I thought about my proclivity to desire and then acquire things of this world.  Although it doesn't show up on my medical tests, I still fight the battle of callousness and pray that God will fill my soul with the compassion of Jesus.
Enrique, my friend, counselor, and pal recently went to Heaven and he leaves a glaring gap for me.  He was the first leper I met and the last of all 45 of my original friends.  They're all reunited in Heaven.  I'll miss walking around the corner and seeing him almost jump out of his wheelchair as he saw me.  I'll miss his cackling call, "Jack, Jack, Jack…"  and they he'd laugh.  I have thousands of memories but only a short space to write of Enrique. "I love you and I'll miss you, my brother. Say hello to Jesus and all my friends…"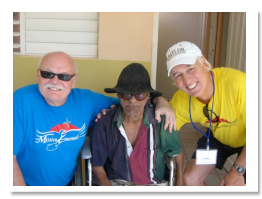 In His Service,
Jack
Executive Director
Mission Emanuel