Since its opening, Provision del Cielo, (Heaven's Provision) has the capacity to clean and refill 2,000 5-gallon bottles per day.
We have been able to sell these bottles for a third of the prevailing rate. For the poorest of the poor, we have a discount program so they are able to afford pure water, as well. For more information, please see "Water Cards" below.
The Haina river basin, which flows 3 blocks from our Cielo hilltop property, is one of the ten most polluted rivers in the world.
"Give the gift of water. We are offering a great way to assist the people of Cielo with a voucher to get discounted 5 gallon water refills. This ($15 US) card enables a family to get (10) refills of their 5 gallon bottles for 5 pesos each. A drastically discounted cost to them for clean purified water. One card will last a family approximately 3 to 4 weeks depending on family size. This gift enables a family to still take ownership in providing for themselves. Won't you consider this year to help Cielo with the gift of water?"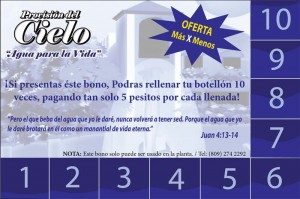 Not surprisingly, 80% of the sick people treated in our clinic are due to water-related illnesses. This outreach now has the potential of touching every home in Bayona, a community of over 60,000 people.
Please go to Donate link and complete our secure online payment form. Select "Water / water card". If you would like this gift to go to a specific family email us and we can help facilitate your gift.